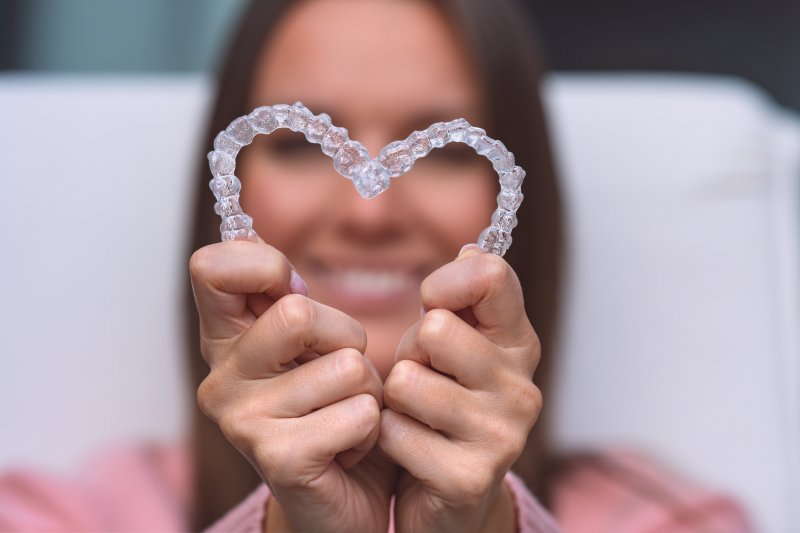 Achieving a straighter smile doesn't have to just happen with metal brackets and wires. Instead, clear aligner systems are quickly becoming the preferred choice for patients. With options like Invisalign and SureSmile, you can address your overcrowding, spacial gaps, and even bite misalignment without compromising your appearance. Before deciding how you want to improve the health and look of your smile, read on to learn which orthodontic solution is right for you.
What is the Difference Between Invisalign and SureSmile?
As orthodontic clear aligner systems, both Invisalign and SureSmile offer patients the opportunity to embrace straighter teeth without the compromising look of metal brackets and wires.
Although traditional braces can address some of the most complex dental problems, the use of clear, plastic aligners can make the process less uncomfortable, less strenuous, and more enjoyable. Not to mention, you're likely to see faster results.
Now that you know why clear aligners are often a better choice than traditional braces, what is the difference between these two options?
Invisalign
Invisalign aligners are made from Align Technology, which uses SmartTrack® material. This means that the aligners are comfortable to wear and offer predictable results. The attachments used are often tooth-colored and can be attached anytime during treatment.
Their smooth and snug fit ensures proper movement with applied gentle pressure; however, they are slightly thicker than SureSmile aligners.
SureSmile
SureSmile is much thinner than Invisalign and has a straight-line cut, which means you're unlikely to require as many attachments as you would with Invisalign. Made from a BPA-free plastic known as Essix®Ace, it is highly durable and offers optimal transparency.
Customizable based on your unique needs, SureSmile is easy to maintain and can often produce results quicker than Invisalign because of the fewer adjustments required.
The Truth About Clear Aligner Systems
Although SureSmile and Invisalign are designed to achieve the same goal – a straighter smile – they are similar in their ability to keep teeth moving in the right direction.
The only way to know which option is right for you is to schedule a consultation with your dentist. This visit will allow them to discuss the severity of your dental problem as well as which clear aligners will get you the results you desire.
Far greater than traditional braces, you can expect to enjoy your treatment with clear aligners, and how fast you'll see a newer, straighter, and more beautiful smile.
About the Author
Dr. Shane Smith is a trusted dentist in Jonesboro who received his dental doctorate at the University of Tennessee Health Science Center. After working at various dental offices throughout Northeast Arkansas, Southeast Missouri, and Memphis, he made a home in Jonesboro and continues to pursue continuing education courses to advance and hone his skills. Providing SureSmile aligners to patients looking to fix crooked or misaligned teeth, he and his team are here to deliver state-of-the-art care and service that makes a difference. Visit our website or call (870) 932-2644 if you are ready to see a straighter smile.