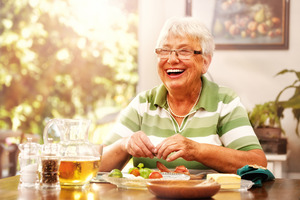 Modern dentures are made out of materials that give them a lifelike appearance. However, just because they look natural doesn't mean they're exactly the same as new teeth, particularly when it comes to meals. There are several kinds of foods that can cause trouble for denture-wearers. If you want to take care of your new smile, it's important to be aware of the foods that you'll need to stay away from.
What Kinds of Foods Can You Not Eat with Dentures?
When you receive new dentures, your dentist can give you a list of foods that are best avoided. Here are some particularly notorious examples that you should always exercise caution around.
Popcorn: Trying to chew on popcorn kernels can end up damaging your dentures. On top of that, if any kernels get trapped between your prosthesis and your gums, you may experience significant discomfort.
Steak That Isn't Cut Into Small Enough Pieces: Since dentures aren't as stable as your natural teeth, it can be difficult to chew tough foods like steak. There's a chance that your prosthesis may even become dislodged while you're trying to eat. If you don't want to give up steak entirely, try cutting it into very small pieces that are easier for your dentures to handle.
Nuts: It's generally not a good idea to bite down on especially hard foods with dentures, and nuts are a prime example. They could easily end up damaging your prosthesis, especially if you're still getting used to chewing with it.
Dark-Colored Beverages: You may have heard that red wine, coffee, and other dark-colored beverages can stain teeth. Unfortunately, they can have the same effect on dentures, leaving your new smile looking duller than you would like.
Sticky Candy: As you can probably imagine, sticky treats like caramel can be very difficult to chew with dentures. They may even end up pulling your prosthesis off your gums.
What Kinds of Foods Can Denture-Wearers Enjoy Instead?
The good news is that there are still plenty of delicious, nutritious foods that denture-wearers can enjoy without issue. Fish and chicken can serve as excellent alternatives to tougher meats. Berries can make for a very healthy, easy-to-chew snack. Eggs, pasta, mashed potatoes, yogurt, and oatmeal are all examples of foods that require little to no chewing.
If you need help planning your diet after getting dentures, be sure to speak with your dentist. They're sure to have a few suggestions for meals that won't cause too many problems for your replacement teeth.
About the Author
Dr. Shane Smith went to the University of Tennessee Health Science Center for his dental degree. He wants his patients in Jonesboro to be able to get the care they need without unnecessary stress. If you're missing all of your teeth, he can give you a beautiful, long-lasting denture to replace them all at once. To set up a consultation with Dr. Smith, visit his website or call (870) 932-2644.